A wide range of social and charitable activities are ongoing at the
Chapel inside White Bluff Resort. Visit the website to learn more about this multi-denominational church. Sunday worship is at 9:15 am, followed by fellowship in the church hall. Everyone is welcome and very much made to feel welcome by members of the White Bluff Chapel.
This Christian church brings Jesus Christ and the cowboy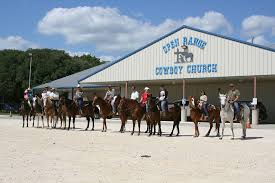 together through services and a wide range of religious and family-oriented events and activities. It is open to anyone and very casual. Sunday morning services are at 8 am and 10 am. Children's Church is at 10:30 am. The Open Range Band is quite well known and plays regularly at the church.